This is my first addition of "So What Wednesday".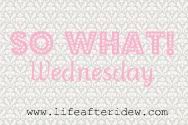 SO WHAT if:

* I am making this post at almost 10pm at night.
* I am drinking a glass of wine while I do it.
* I danced for hours today in the living room with the kids to Britney Spears, Ke$ha & Lady Gaga. We had a blast doing it.
* Kyle bought 50 plants we don't need but will make our yard super pink come Spring.
* We still have Halloween candy in the pumpkin almost a year later that we still eat.
* I spent 3 hours during nap time playing with my new digital scarpbook papers instead of cleaning the kitchen. That can wait until tomorrow at nap time.

SO WHAT if.....YOU DO IT TOO!